Retaining Walls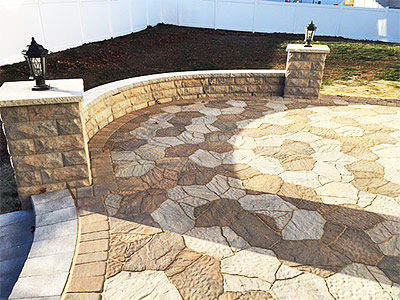 There are a lot of ways on how to improve the functionality and beauty of your outdoor space. You can install outdoor living amenities, shade structures, and paver features. Another important feature that you should not ignore is the retaining wall. This type of wall has many functions in a landscape, making it one of the most requested features in a landscaping project. It is also built on other areas in your property to improve safety. Most retaining walls are designed to prevent soil erosion. They are usually recommended for properties with hilly areas.

With these critical functions, you must ensure that the design and installation of your retaining walls are handled by expert people. You should look for a contractor with lengthy experience in retaining wall installation. And a local company with expertise in this field is Wilson Bros. Landscaping, Inc. Some of the areas we serve in New Jersey include Matawan, Old Bridge, Colts Neck, Holmdel, Rumson, South River, Fords, East Brunswick, Red Bank, and Tinton Falls, NJ. Contact us at (732) 583-4716 or visit our office so we can personally discuss with you how we work on residential and commercial retaining wall projects.


Retaining Wall Blocks
The materials will always affect the structural stability of your retaining wall. If you want this feature to last long and serve its main function, make sure that your contractor uses top-quality retaining wall blocks. Some of the leading wall block manufacturers in the country include Belgard, Techo-Bloc, and EP Henry. The blocks that these brands offer are proven first-class and manufactured using the latest technology. They are also available in great design options.


Concrete Blocks
Concrete masonry units (CMU) or concrete blocks are commonly used for the construction of vertical structures such as walls and fences. They are also great for retaining walls because of their durability. When installed by professionals like us, you can have a wall that can retain large amount of soil. The great thing about these blocks is that you can reinforce them with steel to enhance the strength of the entire structure.


Building a Retaining Wall
A reliable retaining wall should be able to withstand the lateral pressure of the soil. Even if it is installed in a hilly area, you will not worry of a possible accident due to a collapsing wall. Your contractor knows that building a retaining wall requires expertise and must be based on industry standards. If your contractor is certified by NCMA, you will be assured of a sturdy and long-lasting wall feature.


Retaining Wall Design
With experienced retaining wall installers, you can always request for custom-designed walls. Just make sure that the retaining wall design will complement with your home's architecture and overall theme of your landscape. The common style options that you can choose from include circular, straight, curve, and tiered walls. You may also suggest your own design to highlight the beauty of your retaining walls.


Block Walls
Never allow an inexperienced builder to work on your retaining walls. Poorly designed and built walls can pose risks to people and may damage other structures in your property. Moreover, don't settle for subpar materials. The block walls should be top quality and sourced from reliable manufacturers. You must also choose the right type of blocks to suit the technical requirements of your walls.

"MORE ARTICLES"

Brick Pavers
Outdoor Kitchens
Landscape Maintenance
Snow Removal
Landscape Design

We Provide Services to the Following Cities and Towns in NJ: