Landscape Maintenance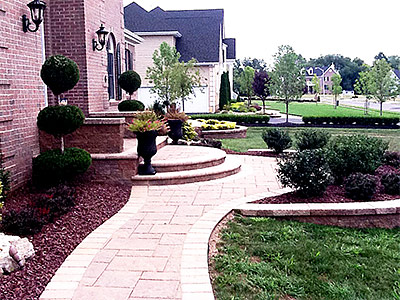 A great-looking landscape is a sign that it is properly maintained. You can expect a healthy and lush lawn, vibrant plantings, clean pavements, properly functioning irrigation system, nicely pruned shrubs and trees, and working water features. But these beautiful qualities will not be achieved if the maintenance job is not handled by professionals. One of the advantages of hiring professionals is that they can perform various landscape maintenance jobs with a high level of accuracy and great proficiency.

With more than 30 years of experience in the landscape industry, Wilson Bros. Landscaping, Inc. is your best choice for any landscape-related job. Our landscape maintenance team is composed of seasoned crews with proper training in various maintenance methods and techniques. They are also skilled in handling all types of landscaping tools and equipment, so you are assured of fast and efficient completion of any task. Our long list of satisfied clients come from Matawan, Old Bridge, Colts Neck, Holmdel, Rumson, South River, Fords, East Brunswick, Red Bank, and Tinton Falls, NJ. Until now, they still get our help to maintain their lawns and landscapes. Call us now at (732) 583-4716 and let us discuss how we can make your landscape beautiful, functional, and safe all year round.


Lawn Care
Lawn care is one of the most important aspects of landscape maintenance. You need to create a customized maintenance plan for your lawn to keep it green all year round. However, doing all the tasks can be too taxing for a busy homeowner like you. The best alternative is to ask the help of professionals. They can perform any or all of the following:


mowing and edging
trimming and pruning
sod replacement and over seeding
fertilizer and mulch application
core aeration and de-thatching
yard cleanups
pest and weed control
lawn disease treatment
Landscaping
All types of landscaping, whether residential or commercial, must have a well-thought-out landscape maintenance program. This program will ensure that all the landscape elements will get their needed care at the right time. From softscapes and water features to hardscapes and shade structures, they must be properly maintained.


Lawn Maintenance
Lawn maintenance can become a costly endeavor if you don't rely on professional people. Doing the tasks in a DIY manner may just result in lawn damage. For example, setting the mower's blade at the wrong height can damage your turf. Another common problem is improper application of fertilizers or feeding your lawn with unnecessary nutrients. You can avoid these blunders by just hiring expert people like us at Wilson Bros. Landscaping, Inc.


Lawn Service
There are some factors that you have to consider before hiring a lawn service provider. First, you must look at the credentials and completed projects. An impressive portfolio is a sign that your chosen contractor is really an expert in maintaining landscapes. Second, your service provider should be licensed, bonded, and certified. This means that the company can perform various landscape maintenance jobs and ensure outstanding results. Lastly, the rates must be reasonable and coupled with a guarantee. If your service provider possesses these qualities, you will never regret hiring its services. And if you want to experience this kind of service, please contact us right now.

"MORE ARTICLES"

Brick Pavers
Retaining Walls
Outdoor Kitchens
Snow Removal
Landscape Design

We Provide Services to the Following Cities and Towns in NJ: