Retaining Wall Systems
Every landscape is a blend of a number of features such as softscaping and hardscaping, water features and decorative elements, outdoor lighting etc. Retaining walls are a very important aspect of many landscapes. They are masonry features that are typically installed in the first stage of any landscaping project.


What are Retaining Walls?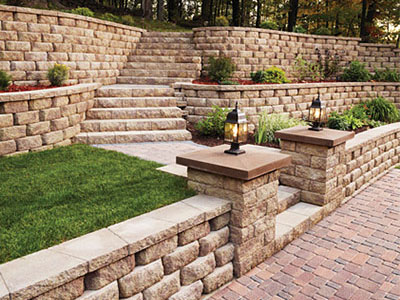 Many properties across River, East Brunswick, Fords, Red Bank and Tinton Falls have graded land; slight grading in the right direction (towards the main storm water drains) is a plus. Unfortunately not all properties have the kind of grading they should. Apart from that, there are times when some properties have slopes. When any outdoor feature has to be installed on these properties, the land will first have to be appropriately excavated.

That helps make the required space for a driveway, pathways, decking, a patio, outdoor fireplace areas or even an outdoor kitchen. But once the excavation work has been completed, the exposed soil and rocks of the slope will require some support to hold them back and to prevent soil erosion. It is at spots such as these that concrete retaining walls will have to be built. These are different from standard walls and are specially engineered and customized to match the space and fit into your budget.

At times these walls are built at a later stage, on an existing landscape. We handle projects of every scale and focus on providing our customers in and around Holmdel, Colts Neck, Rumson, East Burnswick and Old Bridge, the best stacked stone walls solutions. We use the best materials in our work and these engineered walls are built by personnel who have years of experience in the field.


What Are Retaining Walls Made of?
Though these natural stone retaining walls are largely functional in nature, there is no reason why they can't be aesthetically appealing too. These walls could be made using CMUs, interlocking concrete blocks, natural stones, poured concrete, brick etc. While stone and brick walls are more expensive than plain concrete ones, the former add to the beauty of the landscaping. However, concrete block walls are also quite strong and many people opt for them. We can affix stone veneer on them to make them appear like natural stone.


Retaining Walls with In-Built Seating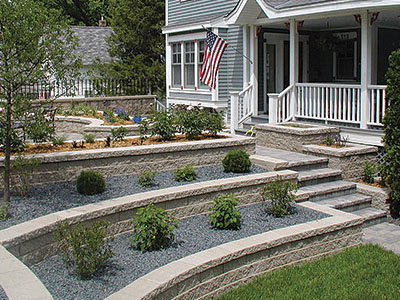 We can also construct dual purpose retaining walls; these can be used to provide support to the landscaping and for in built seating too. These walls are ideal for spaces such as outdoor kitchens and fireplace areas. The garden or yard gets the support it needs and there is plenty of seating space there too - it helps keep the floor space free for outdoor furniture and allows for more movement space; especially in areas such as outdoor kitchens.

We use high grade materials in our work and our personnel ensue the installation is competed in a timely and efficient manner. For any more information about our retaining wall design and installation services, or for any other queries, please call Wilson Bros Landscaping at 732-583-4716. You can also connect with us using this online form.
We Provide Services to the Following Cities and Towns in NJ: